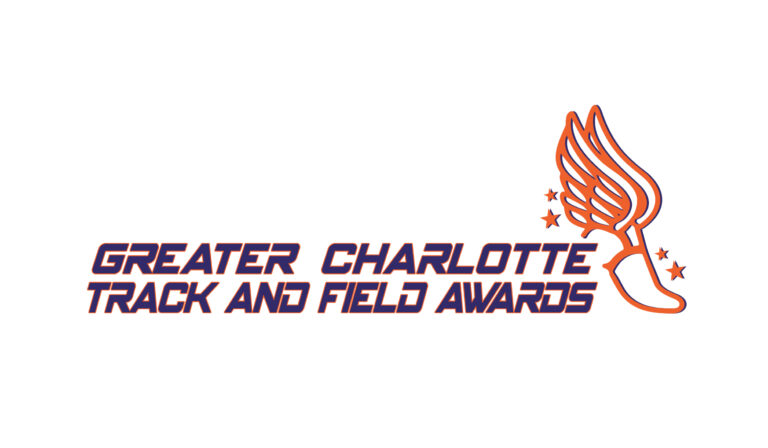 Honoring The Best and Brightest Track and Field, Cross Country and Indoor Track Athletes in the Greater Charlotte Region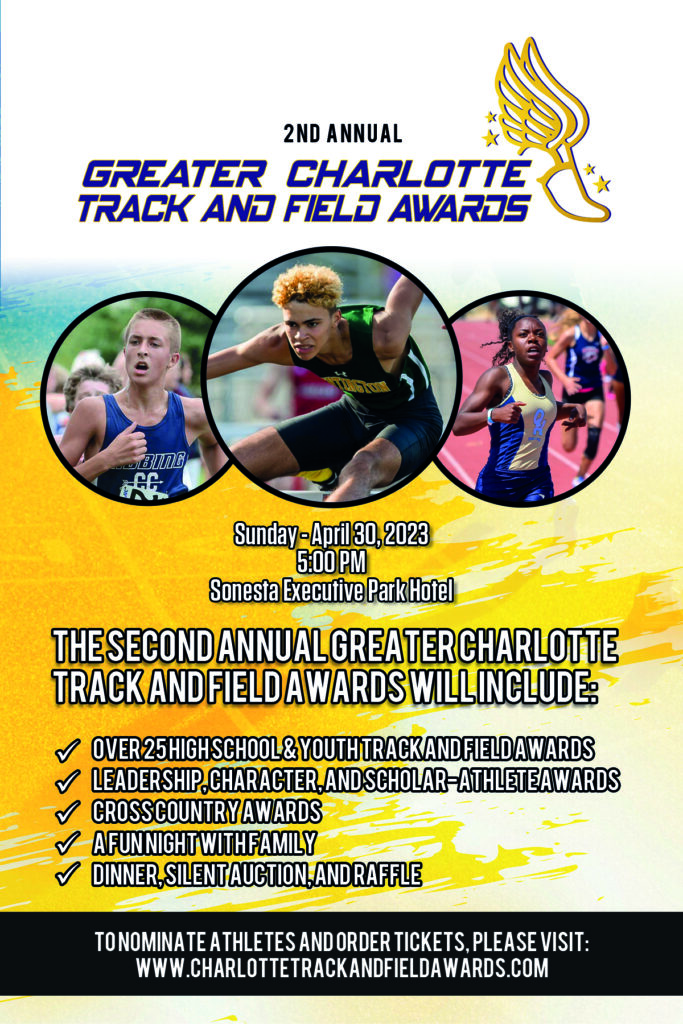 2nd Annual Charlotte Track and Field Awards To Be Held Sunday April 30th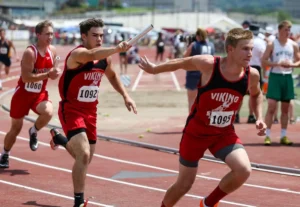 After attracting a sell out crowd of over 400 guests for the 1st Annual Charlotte Track and Field Awards last year, we are set for year number two. The event honors track and field and cross country Student Athletes in the Greater Charlotte Region. Recognizing athletic success, leadership, character and academics are the primary goals of this star-studded event. On April 30th, the track and field and cross country communities will gather at the Sonesta Park Hotel to honor the best and brightest student athletes that have worked so hard over the last year to achieve success.  
This prestigious awards night has become a very special evening for athletes, coaches, teams, families and friends. This is the one night of the year when the entire Greater Charlotte track and field and cross country communities come together as one to recognize outstanding achievements on and off the track and cross country courses.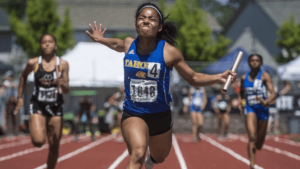 The Charlotte Track and Field Awards Dinner was founded as a sister event to the 16th Annual Greater Charlotte Hot Stove League Baseball and Softball Awards Dinners. Inside the family, owner Tripp Roakes also operates the 5th Annual Charlotte Lacrosse Awards and the 11th Annual Charlotte Football and Cheer Awards. Roakes, Founder of South Charlotte Sports Report and South Charlotte Sports operates the events to provide a special spotlight onto local student-athletes and their families, rewarding them for all the time and dedication they have given to their sport.  
Nominations are now open at
www.CharlotteTrackandFieldAwards.com
and will be open until March 20th Finalists will be notified at that time of their selection and will begin to prepare for the special evening. Over 20 awards will be presented to the top high school and middle school student athletes and all finalists will be recognized at the 2nd Annual Charlotte Track and Field Awards Dinner.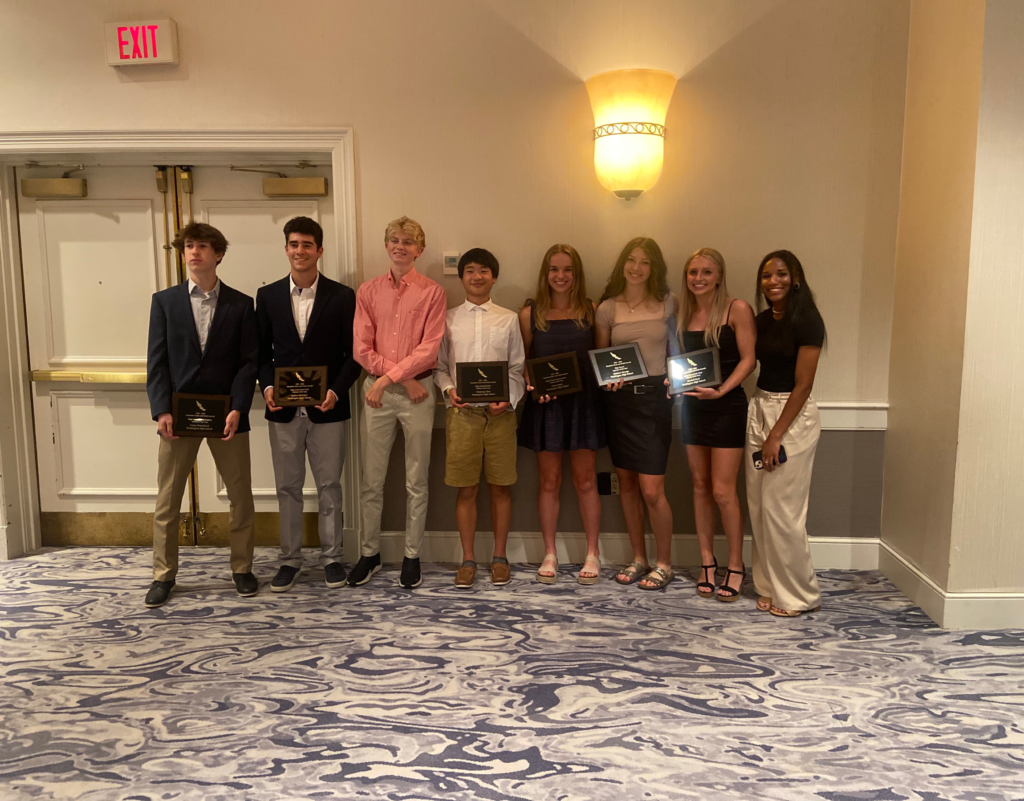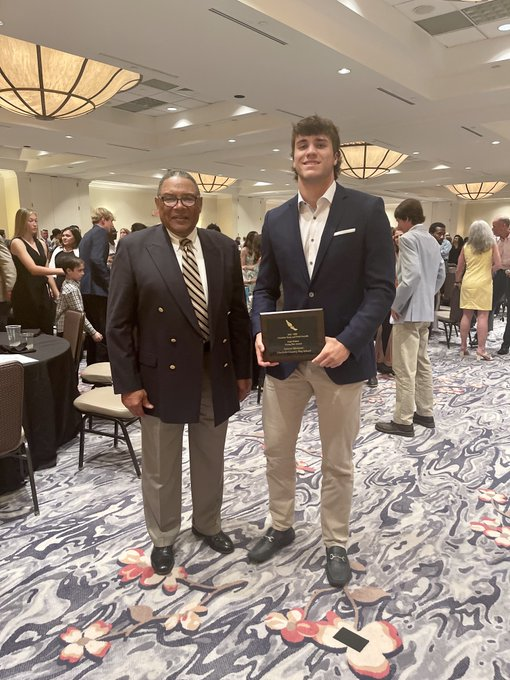 A sold out crowd was on hand for the inaugural Greater Charlotte Track and Field Awards Sunday Night. Families enjoyed social time with friends, dinner and awards and remarks from the finalists. Below you will find all the award winners.
2021-2022 Charlotte Track and Field Awards-
High School Field (Jump) Athlete of the Year
Khareem Thompson –        Hickory Ridge High School
High School Field (Non-Jump events) Athlete of the Year
Denmar Chambers-         Sun Valley High School
High School Pole Vault Athlete of the Year
Joshua Madrigal –        Weddington High School
High School Hurdler of the Year
Brandon Benitez –        Porter Ridge High School
High School Cross County Athlete of the Year
Caden Townshend –         Weddington High School
High School Long Distance Athlete of the Year
Jacob Laney –        Porter Ridge High School
High School Scholar Athlete of the Year
Chauncey Chen –        Weddington High School
High School Leadership Award
Connor Kleiderer –         Charlotte Country Day School
High School Sprinter of the Year
Jamier Moten –         Ardrey Kell High School
High School Field (Jump) Athlete of the Year
Cheyla Scott –        Butler High School
High School Pole Vault Athlete of the Year
Kendall Ford –        Weddington High School
High School Field (Non-Jump) Athlete of the Year
Camryn Massey –        Gaston Day School
High School Hurdler of the Year
Nyree Andrews –        Mallard Creek High School
High School Cross County Athlete of the Year
Emma Jones –        Weddington High School
High School Rising Star of the Year
Charlotte Bell –        Cuthbertson High School
High School Scholar Athlete of the Year
Madeline Pease –        Charlotte Latin High School
High School Leadership Award
Caitlin Peck –        Ardrey Kell High School
Youth Track and Field Athlete of the Year
Nina Dominique –        Hickory Ridge High School
Jasmine Gourdin –        Nation Ford High School
High School MIddle Distance Runner of the Year
Maddie Huecker –        Lake Norman High School
High School Sprinter of the Year
Madison Moraja –        Weddington High School
High School Distance Runner of the Year
Alyssa Preisano –        Cuthbertson High School
High School Rising Star Award
Spencer Mermans –        Charlotte Country Day School
Youth Track and Field Athlete of the Year
Amari Barrow –        Cuthbertson Middle School